13th Street Bakery
Located in the original property's farmhouse at 13th Street Winery, the 13th Street Bakery features seasonal fresh baked goods (made on-site) and an assortment of jams, jellies, and preserves made with Niagara produce. Our winery chef – Josh Berry also makes a selection of meals to go, meat pies and delicious soups plus more. We also have an extensive cheese program featuring Ontario and Quebec cheeses. The Bakery also has an extensive selection of giftware and home decor items. Enjoy our famous butter tarts while you stroll the winery grounds and take home a freshly baked pie.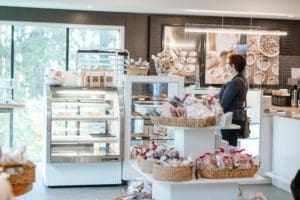 Canada's Best Butter Tart
Originally started at Whitty Farms' Markets, the 13th Street Bakery has become a very special component of 13th Street Winery. We are most famous for our butter tarts – voted Canada's Best Butter Tart by House and Home magazine in July 2017. In addition to all the butter tarts they make, our bakers, make hundreds of fresh fruit pies and tarts pies, cookies, carrot cakes, and other delectable baked goods. 
Fresh Baking
Pick up some of our delicious homemade soups, meat pies, artisan cheeses, and other goodies to take home. Choose from our large selection of artisanal Ontario cheeses, gourmet food items, and unique gifts. The Bakery Farmhouse also offers a wonderful assortment of wine country merchandise including home decor, giftware, culinary items, accessories, and much more.