Jean-Pierre Colas
Jean-Pierre (JP) Colas is one of the most talented French-trained winemakers in the business. His winemaking philosophy is quite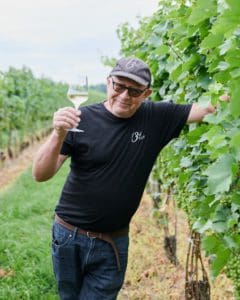 simple. He believes that great wines come from the best grapes grown in the best vineyards, whereas winemaking techniques are only utilized to supplement and capture the very essence of the grapes' provenance and character. With this philosophy in mind, JP excels at crafting high-quality red wines paramount to the Niagara peninsula: Gamay Noir, Cabernet Franc, Syrah, and Pinot Noir. Likewise, JP guides the production of exceptional white wines, including world-class Chardonnay, Riesling, Sauvignon Blanc, Pinot Gris, and Gewurztraminer.
Hear Jean-Pierre speak about making wine in Niagara
In his home country of France, JP worked at the notable Chablis house, Domaine Laroche, where he produced Wine Spectator Magazine's 1998 White Wine of the Year, an award he received for his Domaine Laroche Grand Cru Les Clos 1996. Also in 1998, Jean-Pierre was awarded the Best Wine in the Wine Enthusiast, Grand Cru Chablis Blanchots "Reserve de l'obedience" 1996 (99 pts).
Between France and his current residency at 13th Street, Jean-Pierre travelled and worked extensively around the world, including Carmen Vineyards in Chile, Bodegas Chandon in Argentina, and Oyster Bay Winery in New Zealand. He has studied and worked under several exceptional winemakers including Michel Givors in Morgon, Beaujolais and Gilbert Picq, and Michel Laroche in Chablis, Burgundy.
In 2022, 13th Street Winery was awarded the No. 1 Winery in Ontario and No.2 in Canada with 20 wines winning awards including two platinums.
In 2018, Jean-Pierre received White Wine of the Year and a Gold Medal for Premier Cuvée 2012 at the 2018 Ontario Wine Awards.