13thStreet wins #1 Winery in Ontario at the National Wine Awards Canada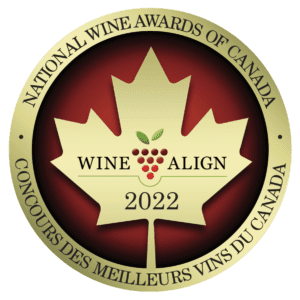 The National Wine Awards, Canada's largest wine awards, are held annually in a different Canadian wine region each year. The 2022 event was held in Niagara Falls, Ontario from June 19th to 23rd. This year saw 1,887 wines enter the competition from 250 different wineries from eight different provinces.
13th Street Winery is honoured and proud to be awarded the top winery in Ontario and the #2 winery in Canada. A total of twenty wines from 13th Street Winery were awarded medals at this year's competition: 2 Platinum, 2 Gold, 7 Silver and 9 Bronze.
Earning prestigious platinum awards are the 2015 Premier Cuvée traditional method sparkling and the 2020 Reserve Syrah. The 2015 Premier Cuvée is sold out at the winery but will be available at the LCBO Vintages this fall. A total of 560 cases of six were produced. This wine also won platinum at the 2021 National Wine Awards and a Silver/93 points at the Decanter World Wine Awards.
The 2020 Reserve Syrah is currently only available to Cellar Door Wine Club Members in the June shipment, a limited number of "Best Of" 6-packs and in the Wine Align Awards Platinum Pack. 258 cases of 12 were produced.
Winemaker Jean-Pierre Colas, originally from Chablis in France, has been at 13th Street since 2009. Prior to this, he worked around the world at wineries in Chile, Argentina, New Zealand and his homeland in France. His winemaking philosophy is quite simple. He believes that great wines come from the best grapes grown in the best vineyards, whereas winemaking techniques are only utilized to supplement and capture the very essence of the grapes' provenance and character.
13th Street Winery was founded in 1998 and will be celebrating its 25th Anniversary in 2023. It is owned by friends and partners John and June Mann and Doug and Karen Whitty. The Whitty family has been farming in Niagara since 1908. The winery offers a unique blend of Wine, Food and Art at its retail location on Fourth Avenue in St Catharines, Ontario. Guests are invited to enjoy their wine while also shopping the onsite bakery and culinary store, enjoying lunch on the seasonal patio and visiting the 6000-square-foot gallery featuring a changing exhibit of many of Canada's most celebrated contemporary artists.
Winning awards at this year's National Wine Awards of Canada are:
PLATINUM
2015 Premier Cuvée
2020 Reserve Syrah
GOLD
2020 Gamay
2019 Blanc de Blanc
SILVER
2020 Gamay Whitty Vineyard
2020 Expression Cabernet Merlot
2021 Gamay Vin Gris
2020 Expression Pinot Grigio
2020 Gamay Sandstone Whitty Vineyard
2020 Chardonnay L. Viscek Vineyard
2020 Cabernet Merlot
NV Burger Blend Gamay Pinot Noir
BRONZE
2019 Meritage
2019 Pinot Noir Whitty Vineyard
2020 Pinot Gris Market Vineyard
NV Cuvee 13 Rosé
2021 Expression Pinot Grigio
2020 Pinot Noir Whitty Vineyard
2020 Chardonnay June's Vineyard
2020 Riesling June's Vineyard