There are options on . Book today!
WINE TASTINGS
Fireside Flights
Enjoy a guided tasting experience while enjoying one of our outdoor firepits.
Wine Tasting
1 1/2 hours
$45 / $30 for our Wine Club members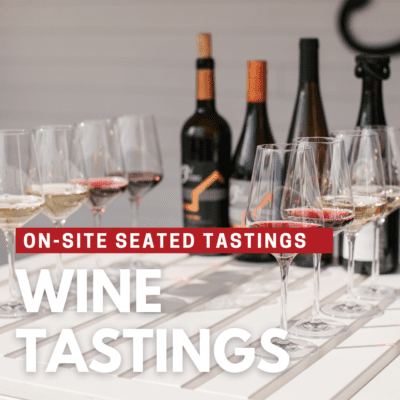 Wine Tasting: 13th Street Guided Tasting
Enjoy a seated wine experience. Select any four wines from our tasting menu.
WINE TASTING
30 MIN TASTING
$20/ $10 FOR OUR WINE CLUB MEMBERS
UPCOMING EVENTS
Wine and Food Seminars: For the love of chocolate and cheese!
Get ready to join Renato in a celebration of chocolate, cheese and wine!
Wine & Food Experience
$35 / $25 for Wine Club Members
Flavours of the World Wine & Food Seminar: Australia
Travel the world with this culinary and wine experience! For February, Renato will be venturing to the land Downunder and exploring the Australian outback.
Flavours of the World
EDUCATIONAL 3-COURSE TASTING MENU
$85/ $75 FOR WINE CLUB MEMBERS
Wine and Culinary Experience 6-Course Dinner -February
Join Sommelier Corinne and indulge in a delicious six-course menu created by 13th Street's Chef Josh Berry.
6-course wine dinner
February 24 & 25