Doug and Karen Whitty, Owners
Doug Whitty is the president of 13th Street Winery and of Whitty Farms, representing the third generation of the Whitty family and over 100 years of family-operated stewardship over Niagara soil. Upon earning a Bachelor of Science in Agriculture from the University of Guelph, Doug travelled extensively: as a member of the internal youth expedition in Japan and the Rotary Group Study Exchange in Central America. After returning to Niagara, Doug consciously cultivated the family fruit farm with sustainability in mind. Eventually, Doug would go on to be selected as the president of the Niagara Peninsula Fruit and Vegetable Growers Association. In 2019  Doug was the recipient of The Tony Aspler Cuvée Award of Excellence. This award is presented to the individual or institution that best furthers the aims and aspirations of Ontario's wine industry at the annual Cuvee Grand Tasting. In 2017, he was appointed Grape King by the Grape Growers of Ontario.
Beyond agriculture, Doug is a renaissance man with a deep affinity for abstract art, local musical talent, and authentic Canadian cuisine (i.e. butter tarts).
Karen Whitty is Doug's wife and the General Manager of 13th Street Winery. With a degree in Biochemistry from McMaster University, Karen started her career working for the federal government with Agriculture Canada. Following eighteen years and several scientific publications, Karen left her Vineland Agricultural Research Station in 2005 to devote her time and energy to facilitate the growth and excellence of Whitty Farms. Upon her introduction, Karen implemented and directed administration, marketing, processing and value-added initiatives at Whitty Farms. Congruently, Karen excels at these same responsibilities as General Manager at 13th Street.
Co-owners John and June Mann also have deep roots in Niagara and share Doug and Karen's passion for Wine, Food and Art and commitment to hospitality.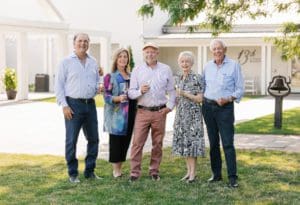 Jean-Pierre Colas, Winemaker
Jean-Pierre Colas is one of the most talented French-trained winemakers in the business. His winemaking philosophy is quite simple. He believes that great wines come from the best grapes grown in the best vineyards, whereas winemaking techniques are only utilized to supplement and capture the very essence of the grapes' provenance and character. With this philosophy in mind, JP excels at crafting high-quality red wines paramount to the Niagara peninsula: Gamay Noir, Cabernet Franc, Syrah, and Pinot Noir. Likewise, J.P. guides the production of exceptional white wines, including world-class Chardonnay, Riesling, Sauvignon Blanc, Pinot Gris, and Gewurztraminer.
In his home country of France, JP worked at the notable Chablis house, Domaine Laroche, where he produced Wine Spectator Magazine's 1998 White Wine of the Year, an award he received for his Domaine Laroche Grand Cru Les Clos 1996. Also in 1998, Jean Pierre was awarded the Best Wine in the Wine Enthusiast, Grand Cru Chablis Blanchots "Reserve de l'obedience" 1996 (99 pts).
Between France and his current residency at 13th Street, Jean-Pierre travelled and worked extensively around the world, including Carmen Vineyards in Chile, Bodegas Chandon in Argentina, and Oyster Bay Winery in New Zealand. He has studied and worked under a number of exceptional winemakers including Michel Givors in Morgon, Beaujolais and Gilbert Picq, and Michel Laroche in Chablis, Burgundy.
Chef Josh Berry
Chef Josh Berry has been 13th Street Winery's executive chef since the spring of 2018. Born and raised in Niagara, he trained at Niagara College Culinary School and has worked for the past 18 years in the culinary industry all around the Niagara region.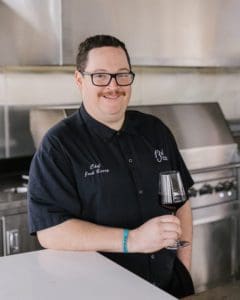 His philosophy for using local ingredients and working with local farmers and producers is a key component of everything prepared at 13th Street Winery.
Chef Josh brings his passion for cooking with local ingredients to 13th Street Winery's many events, seminars and seasonal bistro, from casual Burger Day BBQs to elegant 6-course wine and food tasting menus. Chef Josh strives to present culinary dishes that reflect Niagara while showcasing 13th Street wines. For each menu he creates he works closely with winemaker Jean-Pierre Colas and Sommelier Corinne Witusik to create culinary experiences that not only showcase the fresh ingredients from 100km but also pair perfectly with 13th Street's VQA Ontario wines.
13th Street Winery open its new outdoor Vineyard Kitchen last October. Chef Josh is excited to use this new facility this coming season to serve the winery's many guests showcasing his culinary skills, local food provider partners and 13th Street's award-winning wines!
Corinne WITUSIK (Sommelier), Director of RETAIL WINE Sales, Wine Club & PROGRAM DEVELOPMENT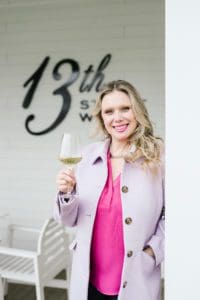 A native of the Niagara Region, Corinne came by her love of wine naturally. Her education began at the Niagara Culinary Institute at Niagara College. Following her training, she worked with Hillebrand Estates Winery. She then moved to Nova Scotia where she studied and received her Sommelier certification from the Canadian Association of Professional Sommeliers Atlantic Chapter. During her time out East, she worked as a sommelier at restaurants in Nova Scotia, conducting many wine tastings and classes. It was Corinne's love of wine that inspired her to move back to the Niagara Region.
As Director of Retail Wine Sales, Wine Club and Program Development, Corinne can often be found at the tasting bar greeting guests and educating them on our wines. She also shares her love of wine and food by planning and hosting our popular educational seminars and other culinary events. Corinne is also responsible for managing our Wine Clubs, planning special events for our members and sharing her passion for wine and food with them! Corinne is also a member of the VQA Ontario Tasting Panel.
Ruth Peters, Director of Marketing
In 2010, Ruth joined the team at 13th Street Winery and brought with her over 20 years of
experience in travel and tourism marketing. A graduate of McMaster University in Hamilton, her past responsibilities include being director of marketing for a Canadian cruise wholesaler, owner and publisher of a resource guide for families, database management for a luxury travel magazine, as well as many years as a self-employed marketing consultant. Ruth has also previously taught continuing education courses on marketing and travel.
Ruth's role at 13th Street has evolved over the years. Today, her focus is on marketing, working with everyone on the team to promote 13th Street Winery through traditional and digital channels and building awareness of the 13th Street brand.