13th Street Winery, founded in 1998, celebrates twenty years of winemaking in 2018! Originally started by four amateur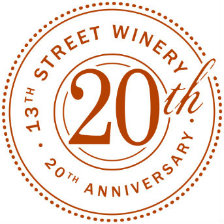 winemaker friends the winery was purchased in 2008 by the current owners: John & June Mann and Doug & Karen Whitty. Both families have deep roots in the Niagara community.
Under this new ownership the winery saw tremendous change, growing from a small boutique winery to producing just over 20,000 cases in 2017. As part of the new ownership the main production and retail operation was moved from its original 13th Street location to its current location on Fourth Avenue where production continues to increase.
Throughout  this expansion the winery has stayed true to its roots of making quality VQA wines that reflect the unique terroir of Niagara. It continues to produce award winning Gamay, traditional method sparkling, Riesling and other varietals.
The current owners share a passion for art and a heart for hospitality which is evident when visiting the retail location. In additional to providing wine tastings, wines by the glass, a retail wine store, onsite Bakery and seasonal food service, they have an expansive art and sculpture collection. Guests are encouraged to wander the grounds and explore the art while enjoying a glass of wine.
President Doug Whitty, recently named the 2017 Grape King by the Grape Growers of Ontario, is the third generation of Whittys to farm in Niagara and brings a wealth of agricultural expertise to the winery's vineyard operation.
The Whitty family operated a farm market for many years in St Catharines offering seasonal local farm fresh fruits and vegetables, fresh baked pies, tarts and homemade jams from this local produce. In 2011 a bakery was added to the 13th Street Winery location and in 2016 the Bakery Farm Store moved into its current location in the property's original century-old farmhouse. Known for their delicious butter tarts the 13th Street Bakery received national acclaim when they were named Canada's Best Butter Tart by House & Home Magazine in July 2017.
From its small boutique winery beginnings to the expansive winery facility it is today, 13th Street Winery remains focused on Wine, Food & Art and offering guests an idyllic escape in Niagara Wine Country.
In addition to its retail wine store onsite many of 13th Street's wines can be found in LCBO stores in Ontario, at the SAQ in Quebec and in fine retailers and select restaurants in cities throughout the world.