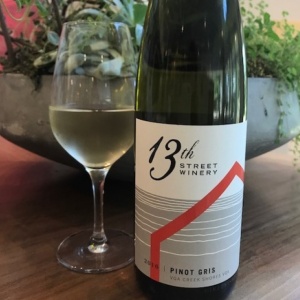 $19.95

Technical Notes:
Appellation: VQA Creek Shores
Vineyard(s): Market Vineyard
Grape Variety(ies) : 100% Pinot Gris
Brix at Harvest: 21.9
Alcohol Content: 13.0%
Residual Sugar: 4 grams – dry
Tasting Notes:
Of all our wines, Pinot Gris might just be the one wine that most clearly demonstrates through its style, the specific weather conditions of the vintage in which it was grown. In cooler or damp years like 2009 it tends to be drier, crisper and more vibrant and energetic. In the warmer, drier years such as 2012 it tends to be richer and more exotic. This version is a wonderful blend of the two offering a bright lemon hue, Asian pear, citrus and light spice notes with soft but balanced acidity, intense fruit flavours and a fine mineral-tinged finish.
Enjoy over the next 3 years with white fish poached or baked with lemon butter, simple chicken dishes, creamy fresh cheeses, green vegetable or herb risotto or sweet garlic pork sausages. Serve lightly chilled rather than cold.
Available at the winery or order online for convenient delivery.