92 pts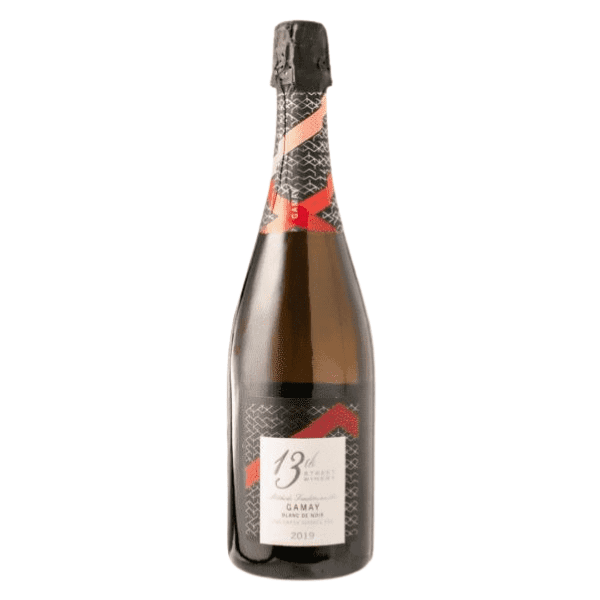 Tasting Notes
Fine bubbles in the glass. Aromas of almonds, biscuits, raspberries and white currants with notes of minerality. On the palate, the mousse is fine with bracing acidity and flavours of lemon and raspberries. The finish is long, dry and refreshing with lingering flavours of tart, red raspberries.
Enjoy this delicious Sparkling Gamay on it own or as the perfect complement to bloomy-rind cheese or a chilled seafood platter. Serve chilled at 5-8° C.
Download Notes
APPELLATION
VQA Creek Shores
VINEYARD
100% Whitty Vineyard
GRAPE VARIETY
100% Gamay Noir
RESIDUAL SUGAR
3 grams/Litre
WINEMAKING NOTES
Our second traditional method sparkling wine made entirely from Gamay, the fruit was hand-harvested in the second week of September 2019 from the first few rows of our Whitty Vineyard in Creek Shores. The grapes were transferred gently into the press and the free-run juice was captured separately to preserve the elegant profile. Primary fermentation was kept cool and in 100% stainless steel. Malolactic fermentation was suppressed to keep the fresh fruit character in the wine. The secondary fermentation took place in bottle and the wine was aged sur lattes for a minimum of 12 months. After the lees was removed, winemaker Jean-Pierre Colas felt the wine was in perfect balance so decided to not add any sugar to the dosage resulting in a classically dry sparkling wine in the zero dosage style.
VINTAGE NOTES
After a fairly cold winter, mild weather began in March but it was some time until real warm weather began, giving the growing season a slow and wet start. The summer was quite warm and allowed for full phenolic maturity in all varieties. Harvest started in the second week of September for sparkling and was quickly followed by early ripening whites such as Pinot Gris, followed by Chardonnay and Riesling at the end of September and early October. The temperatures were mild but a bit wet so Pinot Noir and Gamay were also harvested in early October followed by Cabernet Franc in late October. There was a snowstorm in mid-November so yields were reduced on Cabernet Sauvignon which was harvested in late November.  The quality of the grapes was very good to excellent with high acidity and concentrated flavours throughout the portfolio. Wines should have the capacity to age for the medium to long term.
92 pts
Rick Vansickle,
Wines In Niagara
This is only the second iteration of this rare traditionally-made estate sparkling Gamay. I can't think of another like this being made locally. The wine was aged sur lattes for 12 months before being disgorged and is another brut zero wine with no malo or oak and finished at 3 g/l of sugar. It has a vibrant, expressive nose of fresh red berries, s touch of plums, biscuit and minerality with a vigorous mousse. There's tingling acidity on the palate then brambly raspberry notes, plums, a touch of citrus, smoke and saline minerality with vigour and finesse on the finish. A fun and very different style of bubbles.