91 pts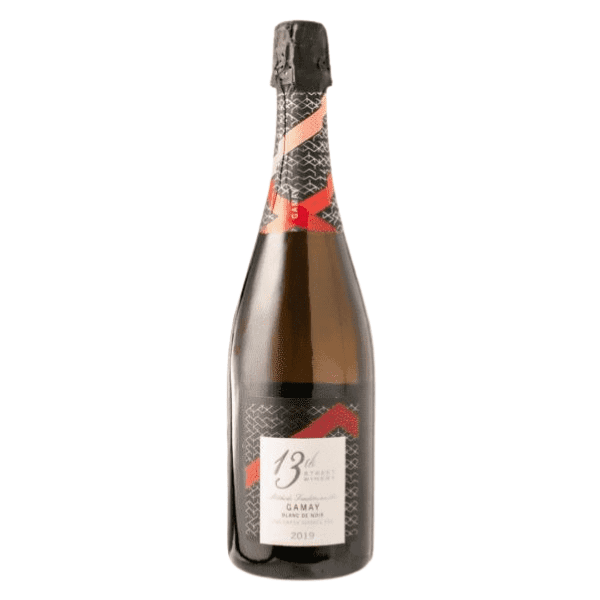 Tasting Notes
Fine bubbles in the glass. Aromas of lemon peel, almonds, and white currants with notes of minerality. On the palate the mousse is fine with bracing acidity and flavours of lemon, fresh raspberries and juicy red apple. The finish is long, dry and refreshing with lingering flavours of tart, red raspberries.
Enjoy this delicious Sparkling Gamay on it own or as the perfect complement to bloomy-rind cheese or a chilled seafood platter.
Serve chilled at 5-8° C.
APPELLATION
VQA Creek Shores
VINEYARD
100% Whitty Vineyard
RESIDUAL SUGAR
3.2 grams - 0 dosage grams/Litre
VINTAGE NOTES
Late winter and early spring had higher than average temperatures leading to an early bud break on May 10th (one week earlier than last year). The high temperatures continued through spring leading to rapid canopy development, flowering and fruit set. The heat continued through the summer with just enough rain to refresh the vines. Harvest began in late August with Chardonnay for sparkling. After a two week break due to excessive rain, harvest continued throughout late September and early October with aromatic whites and lighter reds. Harvest continued throughout October and November with later ripening reds, ending with Cabernet Sauvignon in late November. Overall, yields were moderate due to thorough sorting and preventative management. Wines should be drunk on release or cellared for the medium-term.
91 pts
David Lawrason,
WineAlign
Gamay is not a usual candidate for sparkling wine but makes some sense in Niagara where good acidity can be maintained. Indeed it works very well here creating a nicely fruit driven but lean and tightly wound sparkler. There is no colour blush. The nose is much more like apple than red fruit. It is light bodied with notably tart edged with a mineral, grapefruity finish. The length is excellent. Tasted Nov 2023
90 pts
Michael Godel,
WineAlign
The rare and specific gamay (blanc de noir) is made by who else but 13th Street because no other Niagara estate does more for both wine idioms. They are the bemused winemaking team who would dare try this at home and and yet if there is "blanc de franc" well why not "ivorie de gamay." This captures the tart berry fruitiness and tang of the grape with vague bitters and red citrus, more pomegranate than currant. Also blue fruit but what really works are the pulling tannins that ground the wine even as it's trying to rise away with extra lift. Drink 2023-2026. Tasted November 2023.